MP2600iec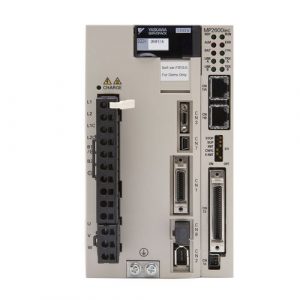 MP2600iec 1.5 Axes (Including encoder emulation output)
Rounding out the MPiec Series is the MP2600iec single axis controller. It is available for both Sigma-5 and Sigma-7 amplifiers.
IEC61131-3 and PLCopen programming standards
Controller and servo controller integrated in one unit
Single axis of motion control
MP2600iec Features
Communication Protocols
Open standards EtherNet/IP and Modbus/TCP for connectivity to many peripheral devices on the market.
Standard Programming Languages
IEC61131-3 means that programs are developed and executed with predictable behavior.
Programmable Amplifier Outputs
The controller can operate local SERVOPACK outputs. This reduces panel cost and space requirements when just a couple of outputs are necessary.
Remote I/O
Numerous third-party remote I/O modules such as Phoenix, Wago, and Opto 22 can be interfaced with the system via MECHATROLINK and Ethernet.
Web Server
A built-in web server offers standard controller diagnostic information eliminating the need for special software for maintenance personnel
MP2600iec Specifications
Item
Description
CPU
200 MHz, 32 bit, ARM 9
Memory
SDRAM: 32 MB
SRAM: 512 kB with battery backup
Flash: 4 MB flash. Code and parameter storage.
Operator Interface
LED: 10 LEDs (red and green – operating mode, communication and error status)
User Configuration: 6x DIP switch (operating mode and communication configuration)
User I/O
Controller-Side (CN13)
Network: 2x 100baseTX Ethernet
Digital input: 8 programmable inputs
Digital output: 8 programmable outputs
Analog input: 1ch., +/- 10V, 16 bit
Analog output: 1ch., +/- 10V, 16 bit
Pulse counter: RS-422-compatible pulse counter input (quadrature, pulse and direction, and up/down counter modes) with 5, 12, and 24V position latch inputs
User I/O
Servo-Side (CN1)
Sequence Input:
Allocated*:
Number of Input: 7 (1 registration input latches external encoder in 5 µs)Functions: The signal allocation and positive/negative logic can be modified. Forward run prohibited (P-OT), reverse run prohibited (N-OT), forward torque limit (/P-CL), reverse torque limit (/N-CL), general-purpose input signal (/SI0 to SI6)Sequence Output:

Fixed:
Servo Alarm (ALM)

Allocated*:
Number of Outputs: 3
Functions: The signal allocation and positive/negative logic can be modified. Positioning completion (/COIN), speed coincidence detection (/V-CMP), servomotor rotation detection (/TGON), servo ready (/S-RDY), torqu limit detection (/CLT), speed limit detection (/VLT), brake (/BK), warning (/WARN), near (/NEAR)

Network capability
2 Ethernet Ports (100 Mbps Autocrossover):
OPC (Client and Server required)
Ethernet/IP
Modbus/TCP
Programming standards
IEC61131/PLCopen
Diagnostic and configuration interface
Web interface
Motion Control
1 controlled axis and 1 external encoder input plus virtual axis
Servo-Side Safety Functions
Input: /HWBB1, /HWBB2: Baseblock signal for power module
Output: EDM1: Status monitor (fixed output) of built-in safety circuit